About-Test
5% of all Zuri Nutrition sales go towards The Lunchbox Fund
Nutrition is at the heart of what we do. We are beyond committed to not only create product solutions for our customers, but to also solve social development problems that require Nutrition. The Lunchbox Fund is our official Corporate Social Investment partner that provides school nutrition programs which are proven to improve the health, development and learning among children in under resourced communities, in which nutrition is a major education barrier. The Lunchbox Fund currently runs school nutrition programs across all nine provinces of South Africa and we aim to assist them in continuing their amazing work.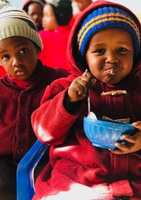 Feed a child. Nourish a mind.
School nutrition facilitates a child's ability to learn and supports their promise of reaching the full potential as adults. Less than 50% of children who start school in Grade 1 in South Africa make it through Grade 12. Poor education drives the high unemployment rate, which is between 40% and 70% for those who have not completed high school.

Hunger, poverty and lack of access to effective education means that millions of caregivers are unable to provide for their children's healthy development and education. Around 12 million children in South Africa live below the poverty line, and 4.4 million households in South Africa do not have frequent, reliable access to food.


Learn More